BUICK GMC TIRE TIPS
Having properly inflated, aligned and balanced tires can  help ensure your safety out on the road. Tires are one of the most important  components on your vehicle, so making sure that they are working properly is essential in keeping you and your passengers safe. Keep reading our tires  information guide to learn more.
TIRE MAINTENANCE 101
No matter if you drive a new vehicle or an older one, getting regular tire service is necessary. Failing to have  your tires serviced can cause serious damage to your GMC Yukon, Terrain or  other make/model. It can also lead to tire blowouts on the road. Follow these  steps to ensure your car tires are in good working order:
Inspect tire pressure regularly
Steer clear of squealing your tires
Have your alignment checked every 12 months
Get tires rotated and balanced every 6,000 miles
HOW DO I  KNOW IF MY VEHICLE NEEDS NEW TIRES?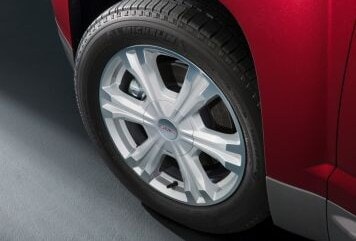 This is a question that we get asked a lot at McKinney Buick GMC. There are many  ways to tell if you need new tires. Do your current tires have cracks and/or  bulges on their sidewalls? Are you having to fill your tires with air  frequently? If you answered yes to any of these questions, then chances are  your car, truck or SUV will need a new set of tires. Here are some other "bad  tire" symptoms to watch out for:
Tires appear smooth or "bald"
Visible tread wear indicator bars
Cuts or gouges in tires
Another way to check the tread is through the classic "Penny  Test." Take a penny and place it in the tire's tread with Abe's head pointing  downward. If his head is visible, the tread is dangerously low. Also, if you  experience steering wheel vibration and/or your vehicle pulls to one side while  driving, you'll need to bring it in to our onsite service center in McKinney to  get an alignment right away.
TOP-NOTCH  TIRE SHOP NEAR DALLAS
No matter what kind of tire service you need,  you can count on our team of highly-trained technicians to take care of you. If  you need new tires, you'll find a wide variety of brands to choose from at our  McKinney car dealership, including Hankook, Goodyear, Michelin and many more.  Schedule your tire  service appointment today!