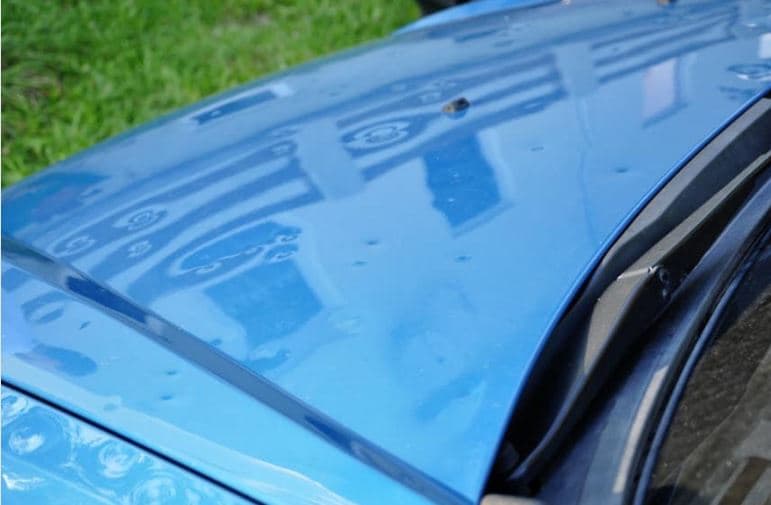 Cars and Hail
Hail has been the natural arch-enemy of cars since they were first parked outside with no garage or a protective covering. Hail remains one of the leading causes of preventable repairs on Buick and GMC vehicles. The operative word here is "preventable." When unpreventable damage occurs to your car, it's painful, but what could you have done? Preventable damage is where it gets really painful.
Preventing Hail Damage
Here are just a few things you can do to protect your car from hail damage:
1. Grab a car cover
The simple and sometimes even attractive car cover is a simple way to prevent body damage from hail. It goes over your vehicle smoothly, is easy to remove, and you won't wake up to find your paint job mauled by hail ever again.
2. Buy a carport
They sell easily assembled carports on major retail sites these days (or in real-world physical stores), so it's snappy and easy to run in and grab one of these before something terrible happens to your car during a hail storm.
3. Be aware of the weather
You've got a smartphone. Use it! There are multiple weather apps that will alert you when a hail storm is on the way.
4. Shelter when traveling
If you're traveling in your vehicle, you'll want to make a handy list or GPS some locations of covered parking areas. Know before you get there where you need to park your car and keep it safe!
5. Emergency plans
Some people see a hail storm coming and try to cover their vehicle with anything they can. Floor mats make a handy emergency covering for your hood and roof, although this is only going to protect a small portion of your vehicle .
As you can see, you're not helpless against hail. There are multiple solutions that will protect your vehicle and keep it safe from body damage. Remember that your own safety and the safety of your family is the most important thing, though. If you're caught in a hailstorm and realize your car is going to be pummeled with hail right at that moment, don't risk your life or anyone else's to rescue your vehicle. Just prepare better next time and realize that this is a lesson you've lived to learn.
Learn More Today
Sometimes life happens, and when it does, McKinney Buick GMC has a body shop that can repair your hail damaged vehicle and teach you how to prepare for the next hailstorm so that this event never happens again. Our certified body damage experts will assess your damage, devise a plan for repair, and get you massive savings on the job. Yes, bodywork can be expensive, but it's far more expensive to let your current damage go on unfixed. Our team can help you save money on the job! Call today to schedule an appointment.