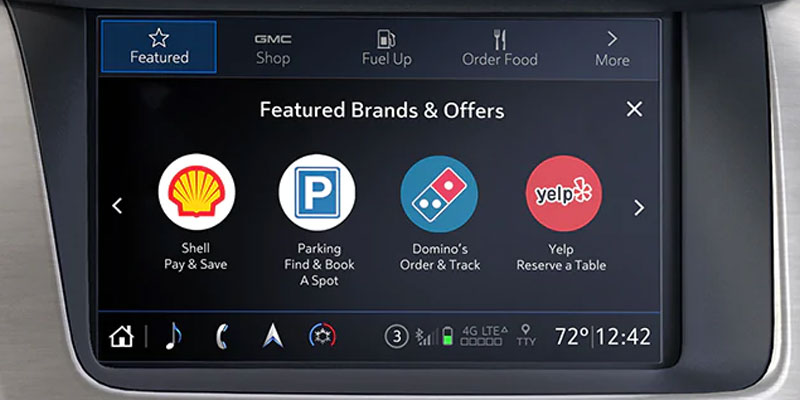 Many new vehicle models are including technological features that utilize smartphone connectivity. GMC Marketplace is an app that is like no other when it comes to the new vehicle market. You can use this program to make transactions with your commonly-used merchants. All of this can be done from your infotainment that comes standard in your new GMC vehicle. To make your drive more convenient and comfortable than ever before, you can now order food, pay for your gas, or buy a parking spot in just a few taps of your centrally located screen.
Using GMC Marketplace
This online program allows you to make reservations and purchases while inside your vehicle. If your favorite restaurant offers a drive-up option, you can order food in your GMC. Applebee's, Domino's, and IHOP are just some of the locations that this system is perfect for. Yelp works with GMC Marketplace to provide you with local restaurants where you can book a quick reservation from your vehicle.
Shell, Exxon, and Mobil fuel stations allow you to pay for your fuel and activate the pump without having to stand outside in the cold. If you're trying to find parking ahead of time, you can use your GMC Marketplace app with ParkWhiz to find a spot and pay. As if that's not enough, you even can book a hotel room using Priceline. You may also be able to obtain a GMC-based discount.
Setting Up GMC Marketplace
Most GMC trucks and SUVs that were manufactured as part of the 2017 model year and on will likely feature GMC Marketplace. Setting up this program is quite simple. You can access the home screen on your infotainment system. After finding the 'Marketplace' app, click on the icon to load the app. The first time you do this, you may need to download the app if you don't see it already on the system. A 'Get Started' screen will pop up once you get started.
You'll need to accept the terms and conditions to keep going. Make sure that you enable notifications from your vehicle. This will benefit you when you are placing orders and processing payments. Sign in to begin using your Owner Center account. Preview mode is available if you skip the sign-in process. The main screen is very easy to use. You'll be able to choose between tasks and merchants. The best way to get used to your GMC Marketplace app is to navigate through it a few times.