2020 GMC Change Points, Tech and Safety
GMC has decided to change and update their current truck and SUV lineup for the 2020 model year. Some features are subtle, like bolder exterior styling. More advanced technologies are being added into the mix, and the first edition of the AT4 Acadia is going to be released. It's going to take approximately two full model years for everything to be incorporated.
The small SUV models that are part of the GMC lineup will undergo changes that include:
The addition of automatic emergency braking.
Inclusion of forward-collision alert.
Front pedestrian braking.
Lane-Keep Assist and lane departure warning.
Upgraded IntelliBeam headlights.
You can also upgrade to include the Driver Alert Package in your vehicle. This will include things like lane change alert technology, adaptive cruis...
How Does the New Encore GX Expand the Buick Lineup?
Buick has changed drivers' expectations of crossover sport utility vehicles in recent years. For the 2020 model year, the beloved American brand brings you an additional crossover SUV option that bridges the size gap between its Encore and Envision models. Branded the Buick Encore GX, this model keeps its smaller sibling's agility while it adds cargo capacity. Let's further consider what the Encore GX adds to Buick's lineup as we enter a new decade.
Where Does the GX Fall in the Lineup?
The Encore GX placement between the Encore and the Envision provides a new price point to Buick's crossover SUV range. While you might like a larger vehicle than the original Encore, you could also prefer a lower cost. The Encore GX base price falls between the other two models' figures.
For the Encore GX, ...

Why Millennials are Buying Buick Vehicles?
Buick has long been a popular brand of vehicle. The company has worked hard to stay modern and fresh, and it's paying off. Many millennials are buying up Buick vehicles because of their value, convenience, technology, and performance. Here at McKinney Buick GMC, we're proud to showcase a variety of Buick vehicles, from sedans to SUVs.
Which SUV's are Popular Among Millennials?
The SUVs are some of our best sellers. Take the Encore, for instance. It's packed with features like LED taillamps, keyless open and start, available Apple CarPlay and Android Auto, and available leather-appointed seating. It's a great size to drive around the city or take on road trips. Next in the line is the Envision. This compact luxury SUV is sleek and modern, both inside and out. It comes with numerous safety f...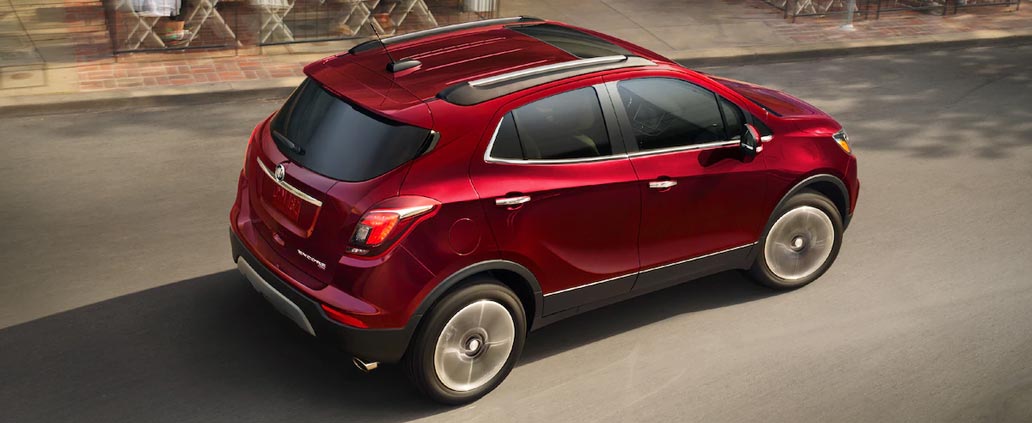 How Does Yelp on the Go Reservations Work with your Buick?
Updated Technology

Through the technology of your Buick, you can now make reservations for restaurants, and it only takes a couple of taps on the infotainment system. Buick Marketplace made a recent update to its technology, and you can now access thousands of Yelp reviews using the given technology.
Reserve a Table
You can seek out restaurants within a 25-mile radius and reserve a table for up to 10 people. We have never seen an automaker embed Yelp into their vehicles so that customers can make reservations through Buick.
Search by Categories
Another one of the cool things about Yelp is how you can search for restaurants based on the categories and what you want to eat most at that moment. You can look for a specific cuisine, or you can look at a particular type of food like Mexican or s...

Can GMC Intellilink Play Movies?

GMC Intellilink: A New Infotainment Experience

Intellilink can do a lot for you in the models it's installed on. It's designed to connect to just about any device that you have on hand, so long as it's a hands-free wireless technology capable device. Responding to voice commands and responding to touchscreen commands as well, Intellilink is an especially smart and sharp infotainment system, available on many models of Acadia and Yukon. It features available 4GE Wi-Fi connectivity and hands-free calling and voice commands. The question many people have is, can it play movies, too? There's good news and bad news on that, but the one thing that is all good news is that Intellilink is a superb infotainment system for any model of GMC that it comes equipped on. People have been giving rave revie...

Get Your Car Ready for Spring
Springtime means getting your home cleaned out and ready for the warmer weather. The same mentality can apply to your car, too! Winter weather can have significant adverse effects on your car. From salt damage to wearing out the battery, your car may be in desperate need of attention by the time the snow melts. Whether you are planning to just use your car for commuting or you're thinking of going on a longer road trip, it's important to keep it going strong. Feel free to call or contact us online when you want to make an appointment to have your car serviced for its important seasonal maintenance.
Tire Rotation and Alignment
According to your local mechanic (or your owner's manual), your car's tires should be rotated about every 5,000 miles, which is when you generally go in for an oil c...

How Can Amazon Deliver Packages To My Buick?
Amazon has been making big news in the delivery world thanks to its new in-car delivery system. Fortunately for select Buick model owners, you'll be eligible for in-car delivery, directly from truck to trunk. It's only available in 2015 models and newer, requires an Amazon Prime membership, and will only be available in select cities. If you match up on all the variables, you're going to be one lucky Buick owner. This new innovation is considered by Amazon to be preferable to front porch deliveries that place packages to weather exposure. While it's not prevalent, sometimes home deliveries can disappear from your front porch. Thanks to in-car delivery, your package will be secured by a safe and sound roof.
How Can Amazon Deliver Packages To My Buick?
The longer and less satisfying answer ...

Buick Partners With ExxonMobil To Save Your Time & Money At The Gas Pump
Drivers who opt for certain new Buick models will be able to pay for gas right from their dashboard. This partnership between Buick and ExxonMobil is designed to save drivers money and valuable time on every visit to the gas station.
How Can You Use the New Service?
The new service is available with an update to Marketplace, a Buick exclusive and the first dashboard-based shopping system in the automotive industry. You can order and pay for fuel directly from your vehicle's touchscreen, without entering your credit card details or using the app on your smartphone. Simply select the ExxonMobil marketplace icon, enter your pump number, and begin fueling.
Does It Automatically Sync?
Because the activity will automatically sync with your ExxonMobil Speedpass account, you'll earn points for e...

3 Ways Drivers Can Benefit From The myBuick App
Mobile apps are truly revolutionizing the world. Nowadays, you can use mobile apps to stay connected and simplify your life in countless ways-from monitoring and controlling your finances to programming your home's thermostat, television or even your refrigerator. As well, most auto manufacturers are now developing their own mobile applications to provide drivers with added ease, convenience and security. Still, few can compare with the range of intuitive features and functions offered by the myBuick mobile app. With this in mind, here are three ways that drivers can use the myBuick app to keep connected on the go.
Real-Time Vehicle Diagnostics and Driving Information
The myBuick mobile app makes it easier than ever to make sure that your vehicle is in tip-top shape. Drivers can use the app...

Can the Buick Enclave Tow?
The Buick Enclave Combines Luxury with Power
The Buick Enclave is a premium crossover SUV that has seven seats. In addition to having luxurious features and cutting-edge technology, this Buick delivers solid performance for daily commutes and extended road trips. When properly equipped, the Enclave is strong enough to tow a trailer that's packed with up to 5,000 pounds of cargo. A roof rack with cross rails can also support some extra cargo that doesn't fit inside this family-friendly Buick vehicle.
Capabilities of the Buick Enclave
Powered by gasoline, a naturally aspirated 3.6 L engine propels the Buick Enclave. This V6 engine is capable of generating up to 310 horsepower at 6,800 RPM. The peak torque rating for this powertrain is 266 lb-ft at 2,800 RPM. When there's no need for any power ...

GMC Introduces New SUV Special Editions
GMC is looking to provide the 2019 Acadia and Terrain SUVs with just a little more personality by introducing the GMC Black Edition. The SUV's are boasting with an interior and exterior style that is sure to make even the most discerning vehicle owner the envy of the neighborhood. GMC is not caving to the auto industry to upmarket its addition to consumers with hype. Instead, the Black Edition is being offered based on the popularity among vehicle owners who love the darker trim.
Experience Elegance with a Boosted Bold Trim
The new trim being offered by GMC has elevated its position as an SUV that is now in a class of its own. The attractive-looking chrome accents from end to end speak for itself. According to research conducted by GMC, buyers are less likely to invest in aftermarket custom...

What is Buick QuietTuning™ Technology?
Buick showed the auto industry that it was a force with which to be reckoned eleven years ago when it debuted its improved line of vehicles. Gone were the old boxed cars that reminded young consumers of childhood days spent in the car with grandma. The carmaker showed buyers that it, too, could present models worth coveting. Buick continues down its revolutionary path with the QuietTuning feature.
Contrary to what some may think based on its name, the QuietTuning technology of Buick has nothing to do with the engine or its components. This innovative technology, instead, refers to the car's interior and the silence that you get when various sound-reducing aspects are at work.
QuietTuning by Buick uses many traditional methods to provide drivers with a smooth and tranquil ride. There is, of...