About the 2022 GMC Hummer EV
The 2022 GMC Hummer EV is an all-new vehicle of its kind. The Hummer EV is labeled a "supertruck" by GMC, its parent company, and for evidently good reason. The Hummer EV features a similar appearance to a standard pickup truck, but it differs from its classmates by its electrifying powertrain. As the world's first all-electric truck, the 2022 GMC Hummer EV is more energy-efficient and quieter than similar vehicles in its class. Even though it's powered by electricity, the EV puts out a mighty 1,000 HP and unprecedented 11,500 LB-FT in torque, which surpasses the competition. Reaching 0-60 in three seconds, it's also one of the fastest cars on the market.

The GMC Hummer EV brought back the familiar name of the Hummer, a vehicle discontinued in 2010. The Hummer EV, however, brings the name ...
Tips for Keeping Your Car Dependable
A car is one of the most significant expenses you'll face in a lifetime. And like a house, your vehicle requires some tune-ups and TLC along the way to look its best and have the most extended lifespan possible. Many modern cars are designed to reach 100,000 miles or longer with proper care. Some stay on the road for 200,000 miles or more! Some reliability factors depend on the car itself, such as the manufacturer, model, and trim. However, you can play an essential role in keeping your vehicle in top shape, regardless of the type of vehicle you drive. From the ground up, and inside and out, there are many important steps you can take to extend your vehicle's lifespan and enjoy problem-free driving for years or miles to come.
Be Diligent About Oil Changes
One of the most basic service...
5 Things to Do During Covid-19 Social Distancing
When it comes to dealing with Covid-19 (Coronavirus), we all need to take care of ourselves. However, there are five things all of us can do to take our minds off of this virus while practicing social distancing for safety. This can help us stay calm.
Get Some Exercise
Exercising is a great way to keep ourselves healthy and to get the focus off of what's going on in the world for a while. You can still go outside to have that morning jog and still maintain your distance from other people that are outside as well. Also, there are exercises such as aerobics and yoga that you can do indoors to help relieve stress.
Turn Off The News
It's not good to watch the doom and gloom in the news all the time. So much stress and worry can be brought out by hearing adverse reports on a prol...
How to Set Up Voice Recognition in Buick Infotainment System
What is Voice Recognition?
Modern vehicles are just like today's tablets and computers. They are equipped with language features that allow you to speak directly to your device and ask it to do something helpful for you. For example, you might ask your phone to play a song for you, and it will politely do this. Most Buick models come with this feature built into the infotainment system. This feature allows you the pleasure of asking your infotainment system to do things for you, so you don't have to take your hands from the wheel. How does it work?
Setting up Voice Recognition in Buick Infotainment System
You can activate your Buick voice command by pressing a button on your steering wheel (in most models). Please keep in mind that the vehicle has to be started first, so you'll want to ...
How to Set Up and use GMC Marketplace
Many new vehicle models are including technological features that utilize smartphone connectivity. GMC Marketplace is an app that is like no other when it comes to the new vehicle market. You can use this program to make transactions with your commonly-used merchants. All of this can be done from your infotainment that comes standard in your new GMC vehicle. To make your drive more convenient and comfortable than ever before, you can now order food, pay for your gas, or buy a parking spot in just a few taps of your centrally located screen.
This online program allows you to make reservations and purchases while inside your vehicle. If your favorite restaurant offers a drive-up option, you can order food in your GMC. Applebee's, Domino's, and IHOP are just some of the l...
2020 GMC Change Points, Tech and Safety
GMC has decided to change and update their current truck and SUV lineup for the 2020 model year. Some features are subtle, like bolder exterior styling. More advanced technologies are being added into the mix, and the first edition of the AT4 Acadia is going to be released. It's going to take approximately two full model years for everything to be incorporated.
The small SUV models that are part of the GMC lineup will undergo changes that include:
The addition of automatic emergency braking.
Inclusion of forward-collision alert.
Front pedestrian braking.
Lane-Keep Assist and lane departure warning.
Upgraded IntelliBeam headlights.
You can also upgrade to include the Driver Alert Package in your vehicle. This will include things like lane change alert technology, adaptive cruis...
How Does the New Encore GX Expand the Buick Lineup?
Buick has changed drivers' expectations of crossover sport utility vehicles in recent years. For the 2020 model year, the beloved American brand brings you an additional crossover SUV option that bridges the size gap between its Encore and Envision models. Branded the Buick Encore GX, this model keeps its smaller sibling's agility while it adds cargo capacity. Let's further consider what the Encore GX adds to Buick's lineup as we enter a new decade.
Where Does the GX Fall in the Lineup?
The Encore GX placement between the Encore and the Envision provides a new price point to Buick's crossover SUV range. While you might like a larger vehicle than the original Encore, you could also prefer a lower cost. The Encore GX base price falls between the other two models' figures.
For the Encore GX, ...

Why Millennials are Buying Buick Vehicles?
Buick has long been a popular brand of vehicle. The company has worked hard to stay modern and fresh, and it's paying off. Many millennials are buying up Buick vehicles because of their value, convenience, technology, and performance. Here at McKinney Buick GMC, we're proud to showcase a variety of Buick vehicles, from sedans to SUVs.
Which SUV's are Popular Among Millennials?
The SUVs are some of our best sellers. Take the Encore, for instance. It's packed with features like LED taillamps, keyless open and start, available Apple CarPlay and Android Auto, and available leather-appointed seating. It's a great size to drive around the city or take on road trips. Next in the line is the Envision. This compact luxury SUV is sleek and modern, both inside and out. It comes with numerous safety f...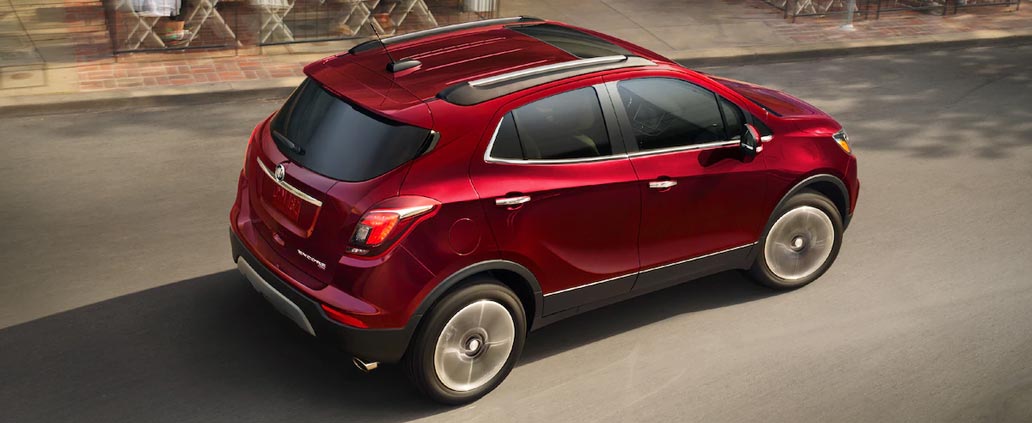 How Does Yelp on the Go Reservations Work with your Buick?
Updated Technology

Through the technology of your Buick, you can now make reservations for restaurants, and it only takes a couple of taps on the infotainment system. Buick Marketplace made a recent update to its technology, and you can now access thousands of Yelp reviews using the given technology.
Reserve a Table
You can seek out restaurants within a 25-mile radius and reserve a table for up to 10 people. We have never seen an automaker embed Yelp into their vehicles so that customers can make reservations through Buick.
Search by Categories
Another one of the cool things about Yelp is how you can search for restaurants based on the categories and what you want to eat most at that moment. You can look for a specific cuisine, or you can look at a particular type of food like Mexican or s...

Can GMC Intellilink Play Movies?

GMC Intellilink: A New Infotainment Experience

Intellilink can do a lot for you in the models it's installed on. It's designed to connect to just about any device that you have on hand, so long as it's a hands-free wireless technology capable device. Responding to voice commands and responding to touchscreen commands as well, Intellilink is an especially smart and sharp infotainment system, available on many models of Acadia and Yukon. It features available 4GE Wi-Fi connectivity and hands-free calling and voice commands. The question many people have is, can it play movies, too? There's good news and bad news on that, but the one thing that is all good news is that Intellilink is a superb infotainment system for any model of GMC that it comes equipped on. People have been giving rave revie...

Get Your Car Ready for Spring
Springtime means getting your home cleaned out and ready for the warmer weather. The same mentality can apply to your car, too! Winter weather can have significant adverse effects on your car. From salt damage to wearing out the battery, your car may be in desperate need of attention by the time the snow melts. Whether you are planning to just use your car for commuting or you're thinking of going on a longer road trip, it's important to keep it going strong. Feel free to call or contact us online when you want to make an appointment to have your car serviced for its important seasonal maintenance.
Tire Rotation and Alignment
According to your local mechanic (or your owner's manual), your car's tires should be rotated about every 5,000 miles, which is when you generally go in for an oil c...

How Can Amazon Deliver Packages To My Buick?
Amazon has been making big news in the delivery world thanks to its new in-car delivery system. Fortunately for select Buick model owners, you'll be eligible for in-car delivery, directly from truck to trunk. It's only available in 2015 models and newer, requires an Amazon Prime membership, and will only be available in select cities. If you match up on all the variables, you're going to be one lucky Buick owner. This new innovation is considered by Amazon to be preferable to front porch deliveries that place packages to weather exposure. While it's not prevalent, sometimes home deliveries can disappear from your front porch. Thanks to in-car delivery, your package will be secured by a safe and sound roof.
How Can Amazon Deliver Packages To My Buick?
The longer and less satisfying answer ...